New HPE storage system with embedded IBM Spectrum Scale: 4 ways it's a win for HPC and AI
With the new HPE Parallel File System Storage product, HPE is now introducing unique parallel storage for customers that use clusters of HPE Apollo Systems or HPE ProLiant DL rack servers with HPE InfiniBand HDR/Ethernet 200Gb adapters for modeling and simulation, artificial intelligence (AI), machine learning (ML), deep learning (DL), and high-performance analytics workloads.
HPE Parallel File System Storage is the first and only storage product in the market that offers a unique combination of:
Here's why this really is a four-way winning scenario for all stakeholders—customers, channel partners, IBM, and HPE.
What's in it for customers who are using clusters of GPU- and/or CPU-powered compute nodes like HPE Apollo systems or HPE ProLiant DL rack servers today?
Many of those customers are struggling with the architectural (performance and scalability) or economical ($/TB) limitations of their Scale-Out NAS storage (for example Dell EMC™ PowerScale™ or NetApp® AFF). They now have access to a new more performant, more scalable, and more cost-effective parallel storage option—with "one hand to shake" from procurement to support for their high-performance computing (HPC) and AI infrastructure stack from compute to storage.
If they already are using IBM Spectrum Scale today for the shared parallel storage that feeds their clusters of HPE Apollo or HPE ProLiant compute nodes with data, they get a more cost-effective option to do so—with "one hand to shake" from procurement to support for their full HPC and AI infrastructure stack from compute to storage.
What's in it for HPE channel partners who are delivering the HPC and AI compute nodes today but the fast storage for the HPC and AI environment is provided by somebody else?
Increased revenue and expanded end customer value creation by providing the full HPC and AI infrastructure stack—while earning more benefits from the HPE Partner Ready program.
What's in it for IBM?
This partnership creates a completely new route to market for IBM Spectrum Scale, the leading enterprise parallel file system, through HPE, the number one HPC compute vendor.2
What's in it for HPE?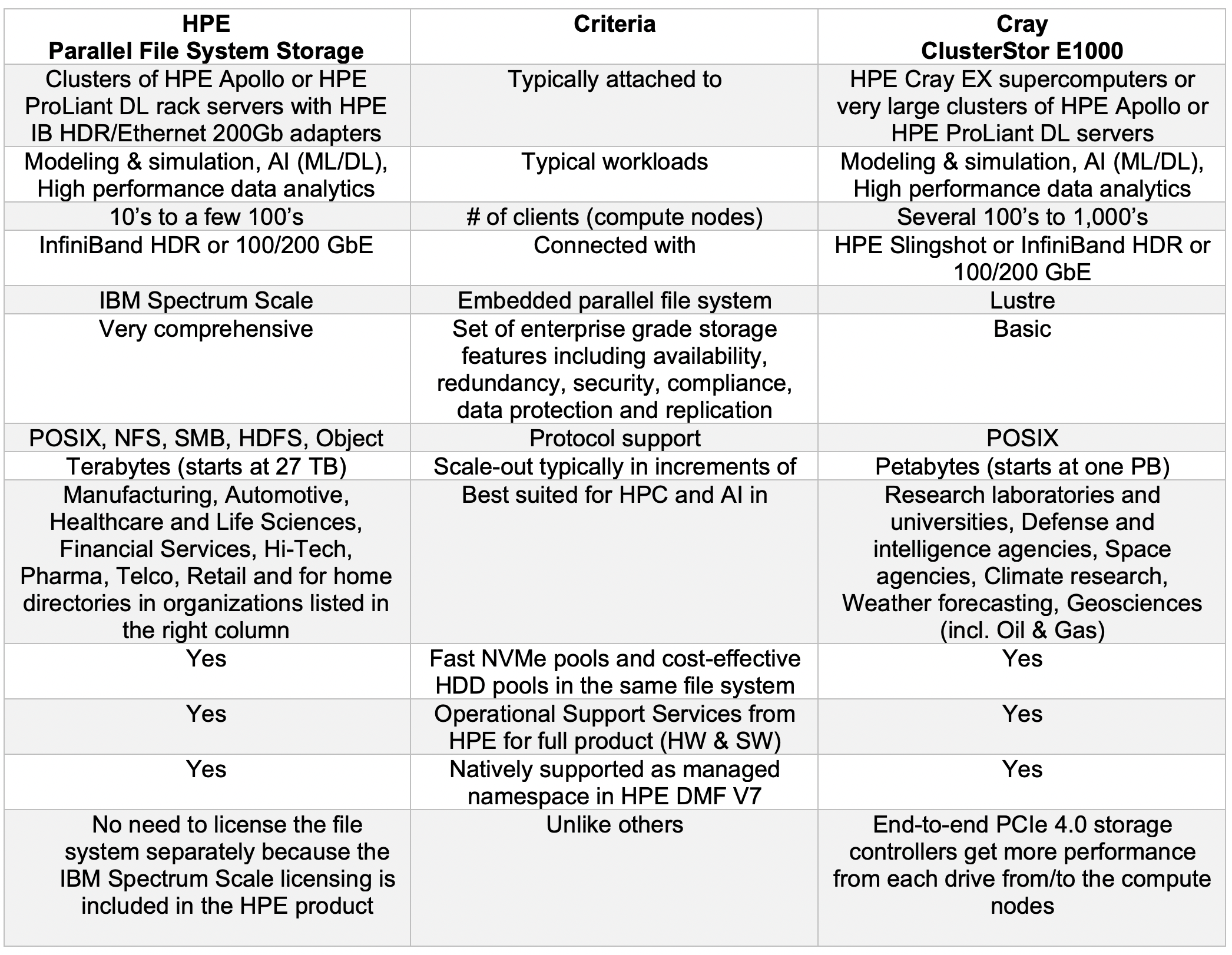 HPE is expanding its parallel storage portfolio for HPC and AI beyond our Lustre-based Cray ClusterStor E1000 high-end storage system. Unlike others who only have Lustre-based storage systems, we now always can attach the ideal parallel storage solution to our leading HPC & AI compute systems for all use cases across all industries. Find more details in this table.
The Cray ClusterStor E1000 storage system has been generally available since August 2020 and has achieved the two exabyte milestone shortly after that. HPE Parallel File System Storage will be generally available in May 2021.
While both HPE storage systems are embedding the leading parallel file system of their respective target market and have different implementations, they share the same fundamental design philosophy we passionately believe in: Limitless performance delivered in the most cost-effective way with single point of contact operational support.
Here's a look at each of the three components of this HPC and AI storage "manifesto" and the benefits they bring.
Limitless performance
Both storage systems are parallel storage systems embedding parallel file systems that enable tens or even thousands of high performance CPU/GPU compute nodes to read and write their data in parallel at the same time.
Unlike NFS-based Network Attached Storage (NAS) or Scale-out NAS, there are (almost) no limitations regarding the scale of storage performance or storage capacity in the same file system. NFS-based storage is great for classic enterprise file serving (e.g. home folders of employees on a shared file server). But when it comes to feeding modern CPU/GPU compute nodes with data at sufficient speeds to ensure a high utilization of this expensive resource—then NFS no longer stands for Network File System but instead, it's Not For Speed.
Are you in one of the organizations that has started your HPC and AI journey with NFS-based file storage attached to your HPE Apollo 2000, HPE Apollo 6500 or HPE ProLiant DL clusters? And now—after experiencing massive data growth, you are struggling to cope with the architectural (performance/scalability) or economic ($/terabyte) limitations of Scale-out NAS systems like Dell EMC PowerEdge or NetApp AFF, then look no further. Our new HPE Parallel File System Storage is the ideal solution for you. Go parallel with us!
Read more here:
https://community.hpe.com/t5/Advantage-EX/New-HPE-storage-system-with-embedded-IBM-Spectrum-Scale-4-ways/ba-p/7126022#.YOOrMMA8K_Z
And here:
https://blocksandfiles.com/2021/04/07/hpe-ibm-spectrum-scale/